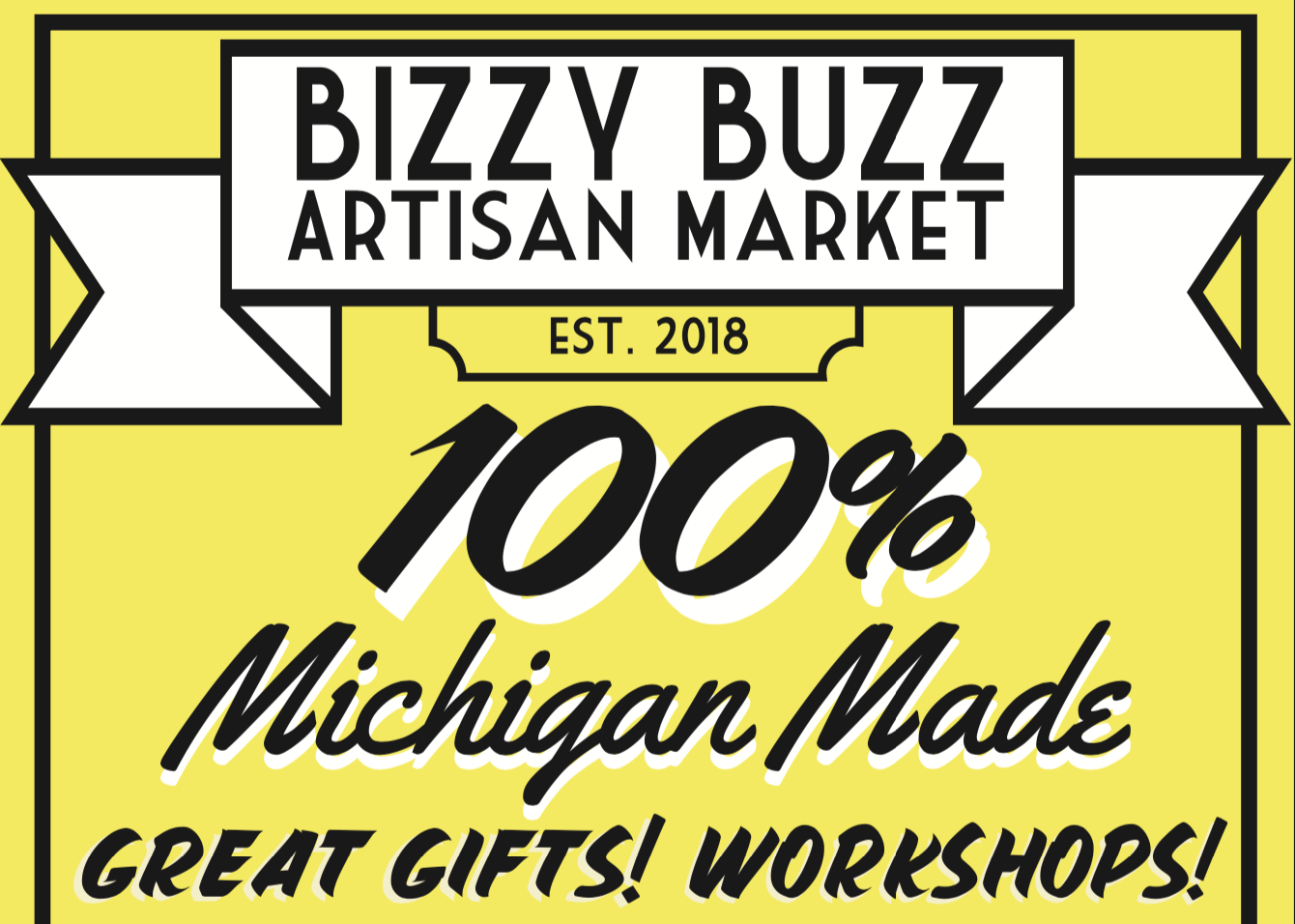 What Makes Us So Special?
We have about 100 local Artists that fill our store with their Artisan (hand made) goods. Most of our Artists come from within an hour of Downtown Rochester, and many of them offer customization of their work. We also can put together a basket for you filling it with Michigan Artisan food, wine, art and that special something to personalize the gift just for your recipient. If you would like a custom order, a gift basket or would like to request a specific workshop event for you and a group of friends, give us a call or shoot us an email and we'll see what we can put together for you!
Our historic building was initially built in the 1890's and was completely renovated in 2018 to become Bizzy Buzz Artisan Market. From the gold leafed tin tile ceiling, the hand blown glass pendant lights, the1890's vault turned into an artist display, the experience at Bizzy Buzz is one everyone can enjoy!
Interested In Getting Your Art into Bizzy Buzz?
Our space is premium, and we need to fill it with the best unique high quality Artisan works. Please be sure to come check out the store to see what we have. We are always looking for unique art, so show us something we don't already have! Bizzy Buzz Artisan Market is at least a third of the size of most other artisan markets, so our Artisans will have smaller spaces to use to sell their work, many time only needing a foot or two of space. Our emphasis is quality over quantity.
Rochester is second only to Birmingham with regards to having the highest retail rental rates in Metro Detroit (Crain's Detroit 6/28/15), but it also gets the most traffic and attracts travelers as well as many local residents. Rochester is the Downtown many people from surrounding cities come to to walk and shop. Downtown Rochester has 34,000+ vehicles traveling on Main Street per day. This volume is similar to that of Woodward Avenue from midtown through downtown Detroit! Rochester hosts thousands of residents and tourists through monthly festivals and special events, and Bizzy Buzz offers many craft workshops and special events throughout the year as well! Our excellent location allows for Artisans to showcase their artwork within this energetic area.